1. Start an herb garden.
I love having pots of herbs growing on my deck.  They are pretty, smell good and are always on hand whenever I need to snip them for summer salads, marinades and cocktails.  This year I'm planting basil, thyme, rosemary, dill and cilantro.  We have lots of potted herbs for sale in the Conservatory right now.  Come visit us and check them out!
2. Get feet sandal ready.
After a long winter of socks and boots, sandals sound wonderful!  Before you slip on your flip flops, try this amazing Spearmint Salt and Pumice Foot Scrub from one of my favorite Etsy sellers.  It smells wonderful and it is infused with spearmint oil and natural butters so your feet will be super soft.  And don't forget to paint your toes in one of these summer shades.  I'm wearing a "hot mandarin" shade right now.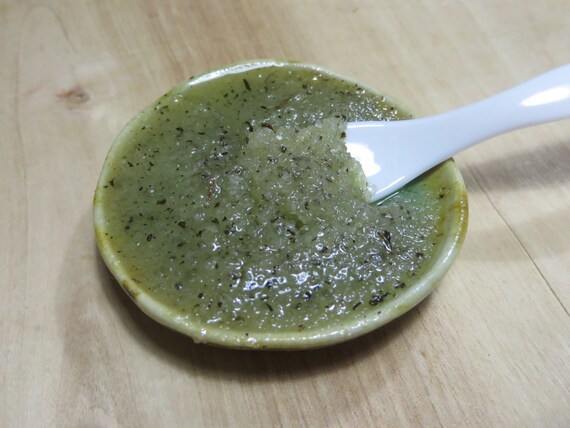 3. Switch to iced coffee.
Every year when the weather warms up I switch from my hot cup of joe to iced coffee.  I admit it, I am crazy for iced coffee in the summertime.  I've tried so many recipes, but in my opinion the Pioneer Woman makes the perfect iced coffee.  Look no further I tell you!  I've been making her recipe for years now.
4. Go to the farmers market.
Once the warm weather hits, I like to get up early on Saturday mornings and head to the farmers market. I usually go to the Oakland County Market and every once in a while head down to Detroit's Eastern Market. I love everything about farmers markets – the sights, the smells, the colors, the people. It inspires me to plan healthy meals and snacks for the week ahead. Check out Cooking Light's tips for a successful market trip.
5. Prep for summer entertaining.
Loved this post on summer entertaining from Style Me Pretty.  Great tips and styling.
Hope you enjoy the long weekend!
Photo credits: 2. Jeannine at The Herb Appeal/ 3. Pioneer Woman/ 5. Style Me Pretty, Abby Capalbo